Change language in cPanel
EXPERIENCING PROBLEMS WITH OUR SERVICES? RUN A DIAGNOSE FIRST TO SAVE YOURS AND OUR TIME
Added: 09.10.2015 15:36:22 Last updated: 11.05.2019 13:57:45
In this guide we will show you how to change the language of the control panel (cPanel) for your web hosting account. In this case we will change from Norwegian to English (standard).
This guide requires you to first log into cPanel.
Step 1:
Click on your username.
Choose "Change language" in the drop down menu
Step 2:
Here we can see which language is set now.
Choose desired language from the drop down menu. In this example we choose "engelsk (English)".
Click "Change" to change language.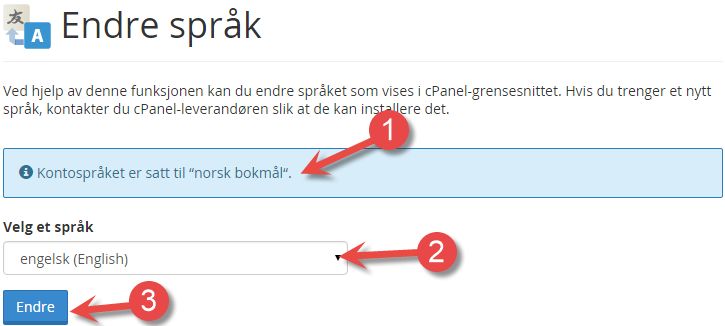 Step 3:
We can see that "English" has been set.
Done:
We have now seen how the language used in cPanel can be changed.