How to create a new Outlook profile
EXPERIENCING PROBLEMS WITH OUR SERVICES? RUN A DIAGNOSE FIRST TO SAVE YOURS AND OUR TIME
Added: 14.08.2019 14:20:26 Last updated: 03.12.2021 13:17:03
This guide shows how to create and switch between email profiles in Outlook. The guide assumes the Outlook application is installed on the computer.

Why and when is it useful to create a new profile in Outlook?
If there is an error on the email account and Outlook won't open because of the error, creating a new profile and setting up the account again will hopefully solve the issue.
If one is changing supplier of email services since it it no longer possible to have the same email added twice to a single profile. It will then be useful to first do a full backup, then creating a new profile, setting up the email account with setting from the new supplier, and finally importing the backup (.pst file) to the new profile.
Step 1:
Click the icon in the lower left-hand corner in Windows.
Write "Control" in the field to search for the application.
Click on the "Control Panel" application.

Step 2:
Click "Mail (Microsoft Outlook 2016)".

Step 3:
Click "Show Profiles..." to display the list of profiles.

Step 4:
Click "Add..." to create a new Outlook profile.
After adding the new profile, the email address has to be added to the profile. If the email address that is to be added is with ProISP, this guide can be followed.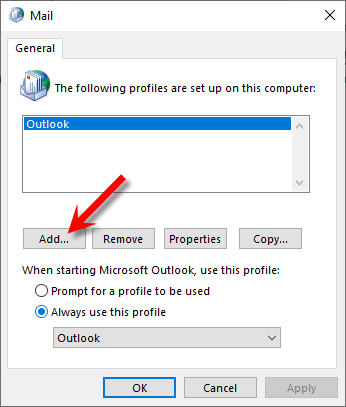 Finished
We have now been through how to create a new email profile in Outlook.