Create MySQL/MariaDB database in cPanel
EXPERIENCING PROBLEMS WITH OUR SERVICES? RUN A DIAGNOSE FIRST TO SAVE YOURS AND OUR TIME
Added: 10.03.2014 23:26:29 Last updated: 11.05.2019 14:39:54
This guide details how to proceed to create a MySQL/MariaDB database in cPanel using database wizard. The guide requires you to first log into cPanel.

Step 1:
Click on the icon for "MySQL database Wizard" as shown in the screenshot below:

Step 2:
Type desired name for the database.
Go to the next step.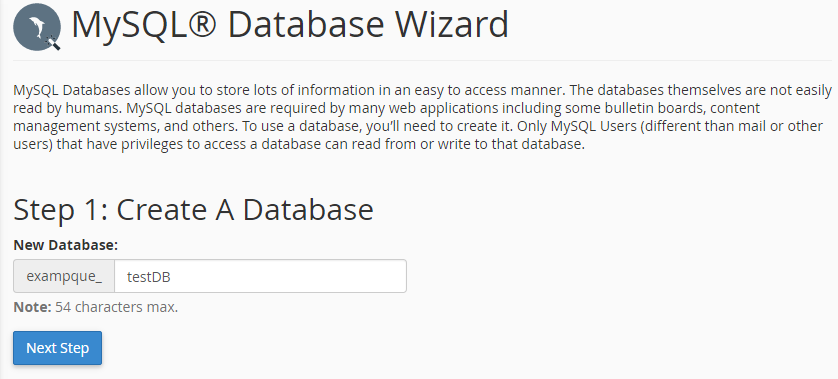 Step 3:
To use a database there must be a user connected to it, and the user must have the correct rights.
Type desired username.
Type desired password twice.
Click to create the user.

Step 4:
Tick off if the user should have all rights to the database. In most cases, this will be the best choice. Unless you have specific requirements, you can pick this.
Certain accesses can be added/removed from the user if needed.
Click to move on.
Step 5:
The screenshot below will show when the last step has been completed, and recaps which database has been created and which user you have given access to. Click on "Go back to MySQL databases".


Step 6:
Under the main menu for MySQL databases you will now see the database we have created, the user which is associated with it, and you can change names and delete the database directly from here.

Step 7:
If you need to create more users and/or add users to the database, this is done on the same page.
Add new user with name and password, like we did under "Step 3", and click "Create user".
Choose which user to add to which database.
Click "Add". Next window will be the same as under "Step 4", and there you can set the desired rights the new user should have to the database.

Done
We have now been through how to create a new database with associated user, as well as how to make changes in these via cPanel.