How to deactivate mod_security in cPanel
EXPERIENCING PROBLEMS WITH OUR SERVICES? RUN A DIAGNOSE FIRST TO SAVE YOURS AND OUR TIME
Added: 04.12.2018 16:23:33 Last updated: 11.05.2019 14:49:23
This guide requires you to first log into cPanel.
By default, the mod_security module of Apache is enabled on all our servers for optimal security. This guide shows how to turn off the mod_security module for a domain name in cPanel.
Below are some examples where you may want to disable mod_sec for a domain name:
- If the developer of the website were having trouble running a special code
- If the website / code provides a 403/406 /50X error message, it may in some cases help turn off mod_security
- Sometimes there are FP (false positive) mod_sec rules that allow normal code to give an error message
When mod_security is disabled in cPanel it can take up to 1 minute before changes take effect on your domain.

Step 1:
Click the "ModSecurity" icon as shown below:


Step 2:
Below you will find information about what the different things mean.
With this button you can disable mod_security for all your domain names.
Here you can disable only for a current domain name.
If you have many domain names and only want to turn off for a single, you can search for the domain here.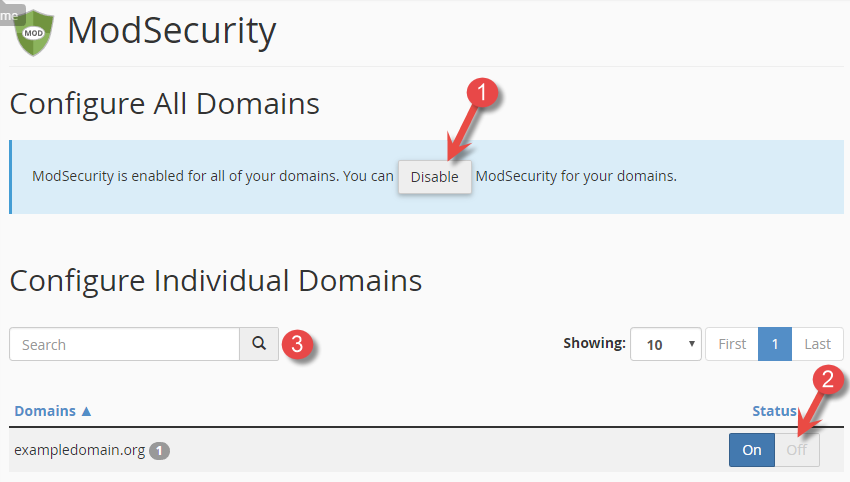 Step 3:
Below, mod_security is disabled on all domain names.
The notification shows that mod_security was turned off on all domains and that it is not recommended to keep it disabled.
If you want to enable mod_security, you can enable it for all domains again by using this button.
Done
We have now been through how to disable the mod_security module for your domains in cPanel.