How to change domain to addon domain
EXPERIENCING PROBLEMS WITH OUR SERVICES? RUN A DIAGNOSE FIRST TO SAVE YOURS AND OUR TIME
Added: 02.10.2018 21:33:23 Last updated: 08.12.2021 11:25:24
This guide will show you how to order a addon domain from either a parked domain or a forwarding via the client portal.
The guide assumes you have logged into the client portal. A change like this can cause downtime while DNS is being updated.

Step 1:
Click "Domains" under "Services".

Step 2:
Scroll down untill you find the domain you want to change.
1. Click the + to see the menu.
2. Click "Connect to web hosting" to proceed.

Step 3:
1. Select the web hosting under where you want to connect the addon domain.
2. You will see the price for the change (this is calculated until the renewal of the web hosting).
3. Here you see which folder you will need to place your website/content to display it in a web browser.
4. This change will remove any DNS records for the domain name. If you wish to use them after the change, copy them and add them after the change has been made. Download a copy of the zone file in .txt format.
5. Click "Order" to proceed.
If you want to connect a parked domain to a Pro Start web hosting you will need to upgrade to minimum Pro Medium.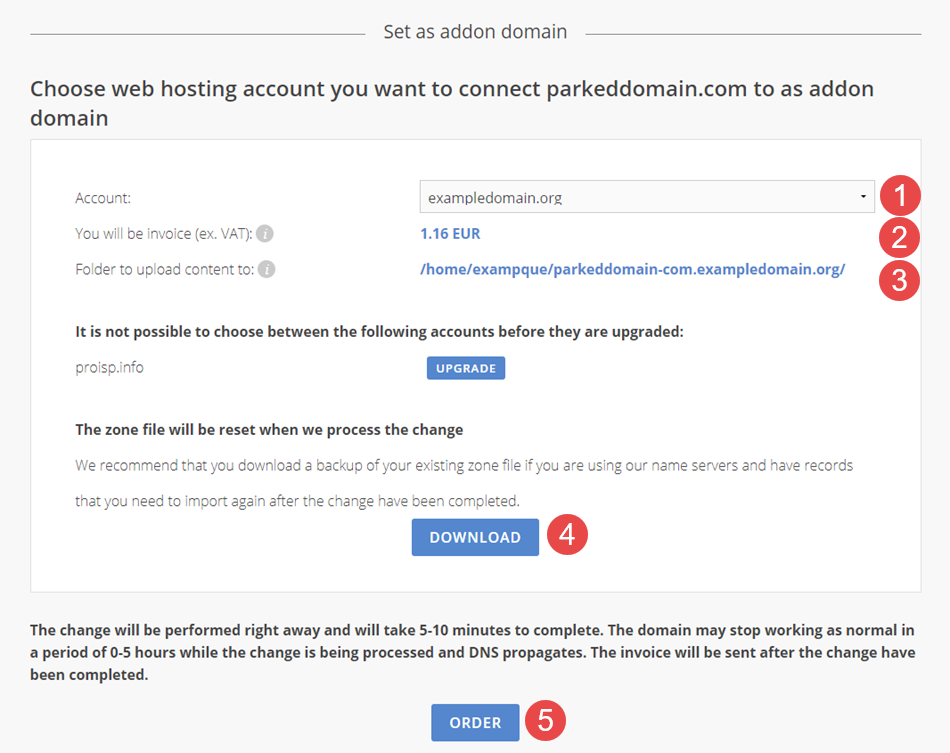 Step 4:
The order has been completed and will be executed within 10 minutes. When it is completed you will receive a confirmation via email.

Done
We have now showed you how to order an addon domain from either a parked domain or a forwarding.