How to activate two-factor authentication in cPanel
EXPERIENCING PROBLEMS WITH OUR SERVICES? RUN A DIAGNOSE FIRST TO SAVE YOURS AND OUR TIME
Added: 15.06.2016 14:45:54 Last updated: 17.12.2019 16:19:44
This guide details how to proceed to activate two-factor authentication in cPanel. The guide requires you to first log into cPanel.
Two-factor authentication secures your account further by requiring a single-use code in addition to a password, like most online banks do.
Step 1:
Download an authentication app on your mobile phone. We recommend the following:
Android
Google Authenticator
Windows Phone
Authenticator
Note: You may be asked to download a QR scanner app when using QR codes if you do not already have this type of app installed.
Step 2:
Click on the icon for «Two-Factor Authentication» as shown in the screenshot below:

Step 3:
Click on «Set Up Two-Factor Authentication» to activate two-factor authentication for your account.

Step 4:
Open the app you downloaded to your phone in step 1. Scan the QR code or fill in «Account» and «Key» in the app.

Step 5:
Fill in the six numbered code that pops up in the authentication app on your phone in the field like shown below, and click «Configure Two-Factor Authentication».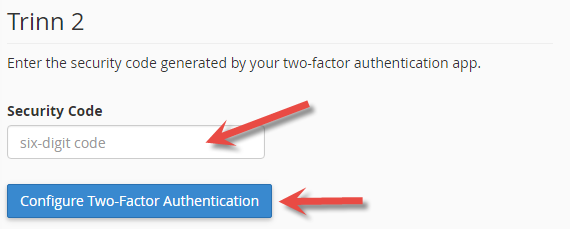 Done
We have now been through how to activate two-factor authentication in cPanel.