Restore emails from web hosting backup
EXPERIENCING PROBLEMS WITH OUR SERVICES? RUN A DIAGNOSE FIRST TO SAVE YOURS AND OUR TIME
Added: 09.04.2019 13:01:33 Last updated: 16.12.2021 14:15:52
This guide explains how to restore emails on your web hosting through the Acronis Backup. The guide requires you to first log into cPanel.
Please note that:
This functionality is available to all of our web hosting packages.
Backups are executed daily, and they are available 30 days back.
When recovering email content, emails received after the selected date will be lost. Therefore, take extra backup of your email before starting recovery. You can also create an additional email and copy the content before you start restoring.
Step 1:
Click the icon for "Acronis Backup" as shown below:


Step 2:
In this example we want to restore the emails from April 5th. Click on the date to show the possible items we can recover.

Step 3:
Click "Mailboxes" as shown below: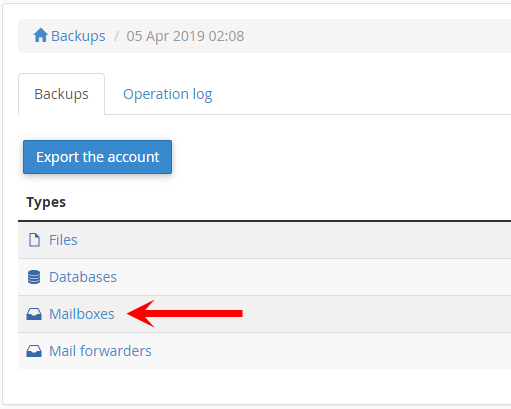 Step 4:
Here you can recover emails from individual email accounts. Check the checkbox next to the account you wish to recover and:
1. Click "Recover" to recover the account.
2. Click "Download" to download the emails if this is desirable. This will use disk-space from the web hosting and will appear in the "recovered_files" folder in the root of the hosting. The files downloaded can be used by the cPanel email program, but cannot be used in a regular email client.

Step 5:
Click "Start Recovery" to start the recovery of the mailbox.

Step 6:
The recovery of the mail account is now complete. The entire email account is overwritten with the account from the backup point.

Finished:
We have now gone through how to recover emails from a specific date using Acronis.