Update list of folders in Outlook
EXPERIENCING PROBLEMS WITH OUR SERVICES? RUN A DIAGNOSE FIRST TO SAVE YOURS AND OUR TIME
Added: 29.08.2016 11:34:46 Last updated: 23.02.2017 09:10:16
This guide explains how to update the folder list for your email account in Outlook 2016.
The guide assumes that you have already opened your email application and set up the email address.
Step 1:
Right-click on "Inbox".

Step 2:
Press "IMAP folders"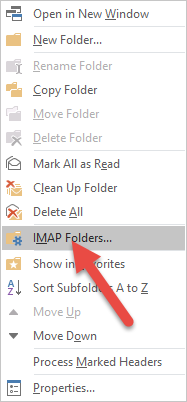 Step 3:
Press "Query".

Step 4:
Select all the folders you wish to subscribe to.

Trykk på "Abonner".

Trykk "Ok".

Completed:
The folders you subscribe to will now be displayed in your Outlook application.
Done
We have now covered the steps required to subscribe to IMAP folders in Outlook.