Outdated software in your web hosting account
EXPERIENCING PROBLEMS WITH OUR SERVICES? RUN A DIAGNOSE FIRST TO SAVE YOURS AND OUR TIME
Added: 15.04.2016 15:12:09 Last updated: 11.05.2019 14:19:41
This guide requires you to first log into cPanel.
If there is an installed software on your web hosting account, we import these directly into Softaculous. When there is a new version of the software we will send out an email about this to the contact email address for the costumer number. Softaculous will also send out its own email to the contact email that is registered in cPanel.

Before you begin the update of the software/script, plugin/themes and other things should already be updated beforehand.

Upgrade software
If you log in to cPanel you will see an icon that shows there is a new update. Click on the notice like the picture shows.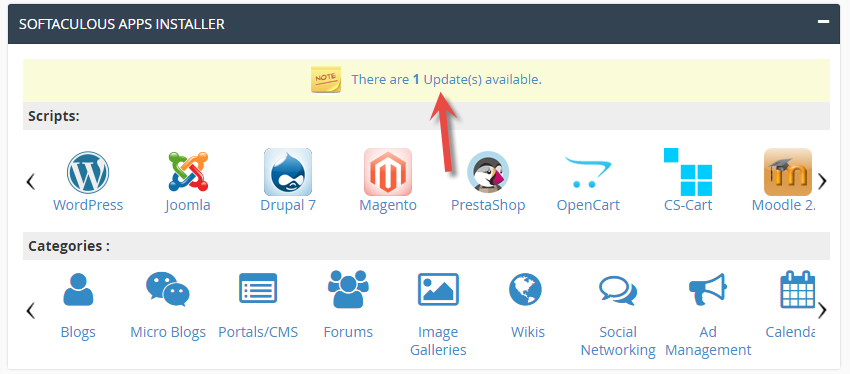 Click on the little blue arrows to move on.

1. You can tick this if Softaculous should take its own backup before upgrading WordPress from version 4.4.2 to 4.5.
2. Click on "Upgrade".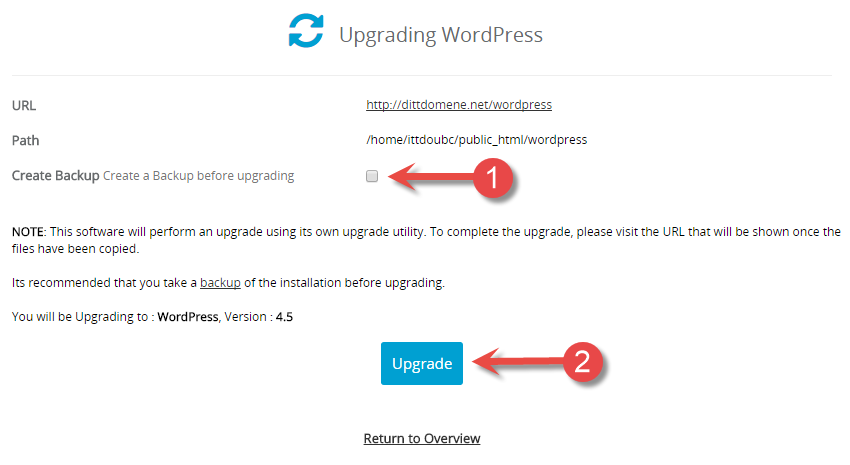 The software was upgraded.
The website should be checked after the upgrade. If there's anything that isn't working, you can try changing the PHP version first, and if that doesn't work, you can recover from backup.

Remove installation
If the software/script was removed manually via FileManager/FTP and not via Softaculous, will it still be in the database of Softaculous. Then you will still receive emails about a new update.
In this case, you can go in to Softaculous and remove the installation from the database.

Click on "X".
1. If the software is there and you want the folder/database/database user to be deleted, you must tick the checkboxes.
If the software was removed manually and you want to remove the software from Softaculous, it's not necessary to tick the checkboxes..
2. Click "Remove Installation"
The installation is now removed from Softaculous' database.


Turn off notifications
You can turn off notifications about outdates software via the customer pages under your customer profile.
When you have deactivated notifications, you will not receive notifications from any of your web hosting accounts.